Ideas appear and fade quickly; so write it down!
A Theory is the beginning to finding a Solution!
A site for Theology, Electronics, Physics, Politics, and Family
Book purchase and donations are needed, honored, and celebrated (Email the Author)
What is in this storage bin of theories at Theorybin.com?
Home - This main page that you are now reading, and introduction to what is available
Author - Entry to life stories about the writer of Theorybin, and the books by this author
Bible-Study - ABC's of the Bible outlined with detailed and fully referenced studies
Mysteries - Outlining "Revealing Bible Mysteries", discovering new findings in the Bible
WebLinks - Useful and interesting links to other web sites, and my sources of news
Family - Some stories and photos of my family events
Physics - Outlining "Physics and Geology of Earth", and other science theories
Politics - Some Conservative views & ideas for the Government, local and national
Electronics - Some stories, theories, and links for those interested in electrical science
Radio - Website Dedicated to the Amateur Radio Club in Independence Kansas
Baseball - Site of the first night time baseball game under permanent lights
Writers - Club meetings with other authors, to get writing challenges and views
Email-Author - Email link to send me your notes or opinions; good, bad, or just chat
Music - My vinyl album collection, and personal ratings of these rock-n-roll treasures
Spitfire - A 1977 Triumph Spitfire sports car, with my personal overhaul photos
Beach - Stories, photos, and information around my home in Panama City, Florida
Media - Video presentations related to studies of theorybin and other Biblical sites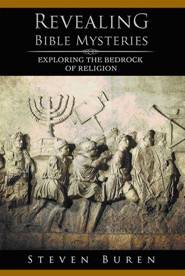 Invite the Author for Content Reviews
Bible Research that will astound all readers.
A conversation where significant findings are presented with source references
Call or email to arrange group discussions or book sales: 850-832-2302
scburen@gmail.com Panama City, Florida
Use the Press Release Kit for text and book images.
AN IDEAL GIFT TO UNDERSTANDING THE BIBLE